With its 2 historic 18-hole courses and a 3rd course built in 2015, the
Golf de Chantilly
is one of the legendary golf courses in Ile de France and one of the most beautiful in France.
It hosts many national or international competitions.
It is also a recognized sanctuary of biodiversity which is the subject of a "Golf and Biodiversity" study by une équipe de chercheurs du Muséum national d'Histoire naturelle de Paris.
But behind this prestigious display, there are more than 120 hectares of landscaping, miles of irrigation networks, hundreds of valves, etc. We must maintain, repair, reseed, renew equipment, improve this environment daily. .
To organize this work as well as possible, you need topographic plans and in such an environment the idea of relying on a photogrammetric plan by drone made by a surveyor is imposed.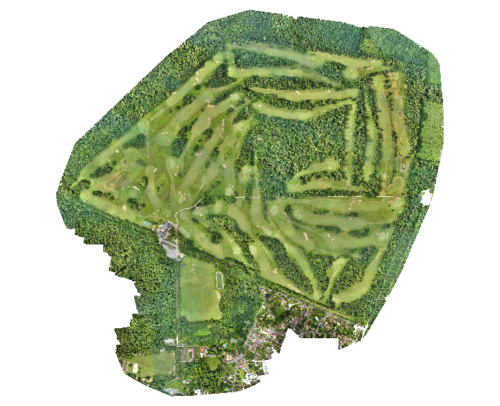 C'est en zoomant dans l'image que l'on peut se rendre compte de tout ce que ce relevé peut apporter:
The different types of lawns stand out perfectly, making it possible to precisely draw the contours for an estimate of surfaces by type.

It is the same for bunkers, water obstacles, ….

It is possible to identify / quantify anomalies for reseeding or other treatment.

By painting the valves beforehand (in white for example), we can locate them and draw up a network plan.

If the Digital Terrain Model has been produced, more precise hydraulic calculations will be possible.

The plan being geometric, the position of the distance stakes or the length of the routes can be checked.

It is also an incomparable quality base for redesigning journey logs.
The orthophotoplan, the Digital Terrain Model, and all the extracted elements classified by category will then implement a GIS (Geographic Information System) which will be the memory of the work carried out, the seeds used, the sections of pipes, etc.
.
Unlike a video by drone which has a commercial purpose, it is a working tool for the greenkeeper.
To find out more about our drone services, see our page dedicated to drone mapping